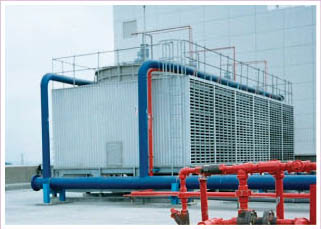 Each cooling water system is unique and requires more than just chemicals to provide optimum performance. IBH Labs offers not only customized treatment programs, but also operating expertise to help your cooling system operate at maximum efficiency. IBH's cooling water solutions combine the proper chemicals with the right dosage and control systems. IBH programs include the industry's best performing treatment technologies. IBH cooling water programs include:
Scale control
Deposit control
Corrosion control

Soft water systems
Hard water systems
Closed loop systems

Biological control

Legionnaires Disease
Slime formers

Remote system monitoring and alarming

IMONITOR 24 hour monitoring and alarm system
IMONITOR PLC Monitoring Systems
ISOFT water softener monitoring with remote alarming
Your cooling water solution is more than just chemicals. IBH also provides operational support and cooling water system training. From turn-key service contracts, to purchasing chemicals and service by the drum, IBH gives you the flexibility to choose as much or as little service as you need. Our people work with you to create the right solution for any cooling water application – and then back it up with our no scale guarantee.
Benefits To You
Cooling water system operational knowledge to help you run your system
Improved productivity
Lower operating costs
Increased equipment reliability
Better safety for your people
The IBH guarantee of program performance
IBH Labs brings you the cooling system technology you need at a price you can afford